When a fledgling tech startup becomes one of the world's most recognized brands, its patina of hipness fades. The Internet-savvy folks who first discover the Next Big Things tend to be young—in the case of Facebook, that's because the social network required its first users to be college students.
But when a social network throw open its gates and the masses stream in, its historical status as the coolest kid on the block doesn't count for much with the tweens and hipsters who put it on the map. So the network has to start working for the love and affection (and monthly active use) of those tastemakers.
Thus: Stickers. Yes, Stickers. The little cartoon characters you can message to your friends were first popularized in Asia by messaging services such as Line. Soon Path jumped on board with its own sticker packs, and Facebook quickly followed suit. Though Stickers might seem mindless and silly to most Facebook users (or maybe just to me), experts agree that they have the potential to kill two birds—wooing back the cool crowd and boosting revenue—with one stone.
Why Stickers? Why?
Facebook packaged Stickers with Chat Heads as part of Facebook Home's launch in March, and then rolled them out to iOS users soon after. Two weeks ago, Facebook announced that Stickers had just become available on the site's desktop version.
There's been an awful lot of fuss about Stickers. Path adds new themed sticker packs every other week, it seems, and Facebook sends out press releases to announce Sticker updates or partnerships to create themed packages, like the recent Despicable Me 2 pairing. It's enough to make you roll your eyes and tell the kids to get off your lawn. I mean…Stickers?!
Stickers seem like a throwaway product. Feeling sad? Send a cartoon cat with a frowning face to get your message across. Boom. The end. But it's all part of the personalization that kids these days crave.
"This is how these social networks operate," said Gartner research director Brian Blau. "They're going to have a core profile functionality, but then they're going to have to offer different things."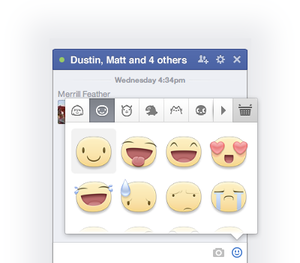 Blau pointed to old-timey social sites like Geocities and MySpace, which took customization a little too far. Stickers (and emoji and Chat Heads) are not exactly the same as those giant blinking signs you could slap on your MySpace page, but the idea is similar.
"In Asia, smiley faces and emoticons really took over as a way of self-expressing," Blau said. "It was in such a small format that it fit with the communications. We're seeing the borrowing of these personalization features and applying those to social networks today."
Facebook has good reason to want to draw teens back into its vast web. Research indicates that the kids' enthusiasm for Facebook is waning, even though usage hasn't declined. Mary Madden, senior researcher for Pew Research Center's Internet & American Life Project, said teens are supplementing their Facebook usage with apps like Instagram and Snapchat—anything they can get to from a smartphone.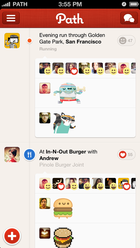 "A lot of companies are focusing on mobile and ways to engage users in communication through content," Madden said. "I think that's something that teens have a long history of doing, looking back to instant messaging and early use of emoticons, and [teens'] early adoption of sharing photos and videos."
Stickers are an extension of that content-sharing trend, she added.
The sought-after youth demographic is finding that even the hottest, newest social sites are going mainstream. Twitter hasn't been underground in years, and Yahoo's purchase of Tumblr put the nail in the microblogging site's cool coffin. Social networks can't sustain their new shine. They need something more. Something that will stick. (Groan.)
"[Facebook is] well aware that they need to be continually innovating to keep that market attracted to them," said Cornell University communication professor Jeff Hancock. "These are kind of the ways they're doing it. It's clear the younger generation is into different types of media, not just text."
Money, money, money
Facebook doesn't charge for its sticker packs yet, but the in-app purchase model has worked well for games and the original Sticker pusher, Line. The South Korean messaging app reported $17 million in revenue from sticker sales in the first quarter of 2013, according to The Next Web. That may not be a significant amount of money when your revenue bucket is the size of Facebook's, but revenue is revenue. Also, Line has a much smaller user base than Facebook, at 150 million compared to more than 1 billion.
Path charges for its themed sticker packs (which it introduced in March), too. It's unclear how much revenue those packs pull in, given that they're priced at 99 cents on sale and $1.99 full price. The social network had about 10 million users in April and said at the time that it was growing by about 1 million users a week, so its sticker packs are probably considerably less lucrative than Line's.
Of course, Facebook might decide to continue giving away Stickers for free as a bonus for using its messaging services.
"I think Facebook is after a bigger pie," Blau said. "When they're looking at revenue, they're looking at hundreds of millions of dollars. Could they make that from emoticons? Yeah, but I think they would probably not go after that…Facebook really wants to develop an ecosystem instead of charging users directly."
PATH
Path sells sticker packages with themes like Happy Hour for $1.99 a pop.
If Facebook decides to charge users for Stickers, it could rake in a nice chunk of change. But Stickers could also bolster ad revenue. If teens stay on the site or download Facebook's apps like Messenger because of personalization features, more eyes will be on Facebook's advertisers. Teens don't have as much disposable income as their elders, who tend to be more gainfully employed, but the social network has the opportunity to establish brand familiarity early on.
"Early eyeball habits are long-lasting," Hancock said. "In the '90s, I remember using Yahoo as my opening page, and I used that page for 10 years or more, even though I used Google for everything. Maybe [kids] don't have the advertising spend now, but they might if they mature."
Maybe sticker packages will turn into sleeper hits that capture the hearts and wallets of teens all over the world. Or maybe a sticker is just a sticker. They are pretty cute.
Source … http://www.pcworld.com/article/2044319/why-facebook-stickers-arent-as-dumb-as-they-sound.html